Outpost Kelly
Note: The original photo (edited by me) was courtesy of Bart Soto.
He is writing a history if the 65th Inf Rgt, which also lost many men on Kelly.
Of course, this is a recent photo and things have changed some since 1952.
The background music was inspired by tales of using a rope to ascend Kelly. MK.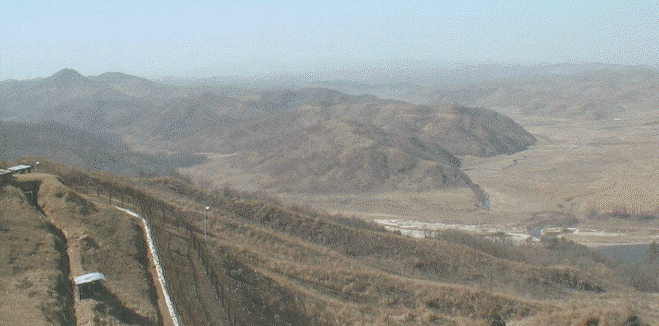 Hill 317 (a Chinese stronghold) is the tall hill about 1" from the left edge of the photo and a little more than 1" from the top. The next closer hill, not nearly as tall as 317 and lying slightly below it and partly to the right, is Breadloaf, to which Company A was dispatched early in the morning of July 31, 1952. The next closer hill, taller than Breadloaf and lying to the right, is Outpost Kelly, which, after that day, became "our" main outpost. Also to be seen in this photo (to the right of Kelly) are Betty, Nick, Tessie, and Cavite, which you also can locate by viewing Captain Pearson's Map.
The buildings and the small white streak (whatever it is - a fence marking the DMZ?) in the lower left of the photo were not there in 1952, but the trench may have been.
The white streak in the right foreground is the Imjin River. The very small hill just across it and on the right edge of the photo, was known to us as Hebert (pronounced a-bear) Two. Beyond it, and on the right, may be seen part of a large valley which appeared to have been, in happier days, a rice paddy. Earlier, in late 1951 and part of 1952, the position of Co A was just on this side of the Imjin from Hebert Two (and on to the right of this photo) and my usual bunker was directly across from Hebert Two. "Our" company outpost (when there) was called Nori and was a hill (out of the photo) on the other side of the valley from Kelly. A great photo of that area, to the right of that seen here, is the Outpost Nori Photo.
The Outpost Kelly part of Bart Soto's history of the 65th Inf Rgt is now in the IBB and is posted as 65th Rgt On Kelly Map and History. It's a sad tale, especially for the Bunker guys who had earlier doings with Kelly, but it's well worth a read.
You may go to Captain Pearson's Map to view a copy of the map that was carried by Captain (now a retired Major) Pearson on his person during all the time he was the Commander of Able Company (15th Inf Rgt) and it was positioned along the Imjin River. MK.

3rd Division Page

IBB Map and Photo Index


Outpost Nori Photo


"Our Hills" 1951-1952 Map


"Our Hills" from Kelly to Nori - Map and Introduction