Bestbird Page One:
Finding it and liking it.
Last edited 14 Aug 2004; and, since 16 Oct 2000, this is visit
.
There's a fork in my road: (05 Feb 2000) Yogi Berra advised that, when you come to a fork in the road, take it; and, many others have noted (even before the nail, horse, kingdom thing) that small events can make large differences in lives. I may never have visited San Pedro had I not won some December money in a poker game or had Sam not called out, "Try Belize", as detailed on the Cabaņa Page. There was also a third crucial point in the course of events that changed my life. On my first attempt to go, as Susan and I switched planes in New Orleans and boarded the Taca flight direct to Belize, it was announced that there was a "minor problem" and we were asked to disembark for "a little while". Well, after about two hours of waiting and thinking how I liked watching horses go round more than I liked swimming and fishing, I had almost decided to call an old New Orleans bridge buddy, who had season tickets to the track, stay in New Orleans, and chuck the Belize trip. Then, remembering that we had not brought warm clothes, we waited longer until Taca regrouped. So, for want of a coat, a grand adventure was gained.
The beauty of San Pedro: (27 Feb 2000) My description of the beauty of the place (You'll find out about the beauties of the people as we go along.) begins with the offer for you to view two great (each being large, but worth the wait) aerial pictures. Here are small versions of the two photos and a description of each. Just click on a small version to get the big picture.
This page is a view of 1959 North San Pedro beyond the middle of town and from the beach to the lagoon. My comments and asides are on the page also.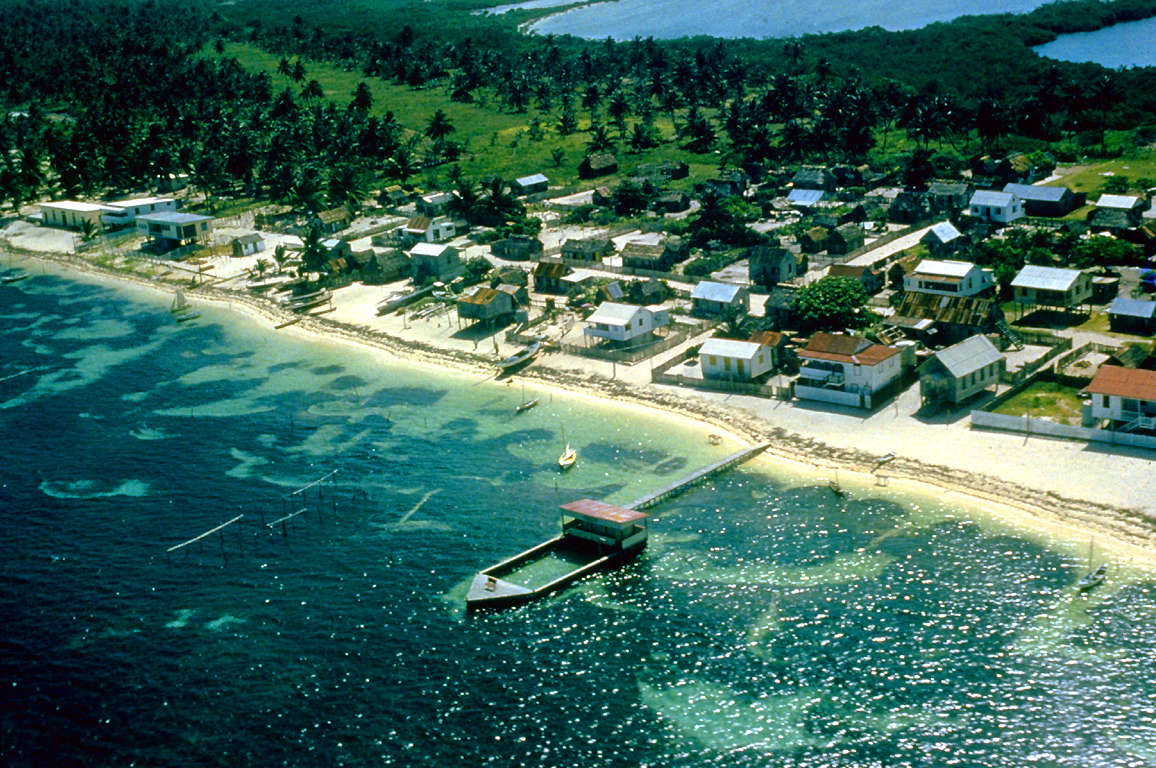 This page is a view of 1959 South San Pedro from the middle of town accompanied by my comments and asides as usual.

My first Belizean aside: (15 Feb 2000) I may as well give you an aside to mention Rudon, the first Belizean with whom I had a real conversation, because his name will come up several times before this page is completed. Rudon, as pre-arranged by the Paradise House Hotel (our end destination in San Pedro) before our first trip to San Pedro, picked us up at the Belize International Airport for the drive of several miles (mostly along a road lying next to, and only slightly above, the Belize River, then over it via a bridge near its mouth) to the Municipal Airport and then the flight to San Pedro - in 1977, Tropic Air, which the Paradise used, did not fly directly from International to San Pedro. I guessed, and Rudon later confirmed, that he was mostly of East Indian extraction. I don't know, but I highly suspect from the fact that Rudon was Belizean to the core, that it had been several generations ago that his forbearers, from whatever continent, had emigrated. He spoke a very good, but accented, gringo English in addition to his native Creole, then the most used language in Belize City, officialdom be damned. When we reached Belize City Municipal, I, not knowing the protocol and having appreciated Rudon's conversation on the drive, tipped him U.S. $5.00, which I immediately knew, by the expression on his face, was U.S. $5.00 too much. But, that was by far the least costly result of my ignorant (that's ignorant, not dumb) mistakes in Belize. Later on, I would feel very lost on the Belize mainland without Rudon's guidance and counsel in the ways of Belize.
A first view of Paradise: (16 Feb 2000) The Tropic Air flight from Municipal to San Pedro offered a magnificent view of Belize City with Haulover Creek (a false mouth of the Belize River) passing through and under the swing bridge in the center of town, of the clear turquoise-tinted Caribbean waters, very shallow between the mainland and the string of Keys, a/k/a Cayes or Cays in Belize and elsewhere in the Caribbean, Cayos in Spanish, and, as I like to call them, Quays (meaning literally, if you are to believe your Merriam-Webster, "a structure built parallel to the bank of a waterway for use as a landing place") which lie along the coast of Belize, of the rays, sharks, dolphins, and other marine species swimming in those waters, of some of those Keys lying northeast of Belize City and south of Ambergris Caye, and, of course, of the awesome Belize Barrier Reef which lies roughly parallel to and just outside the string of Keys.
Landing near Paradise: (23 Feb 2000) As we approached San Pedro from the south, I could see the town in the distance, its beauty being much more startling than it is after familiarity has taken over; but, to tell the truth, being a white knuckle flyer, I had my eyes glued to the landing strip which, in 1977, consisted of a narrow, grassy strip cut in the middle of what could only be described as a jungle. As we disembarked, the pilot, who I am fairly certain was Nando Trejo, remarked, "Your transportation to your hotels is on the way to pick you up." Then, without further ado, he departed the scene and left me, Susan, and the French speaking couple from Quebec, who were our fellow passengers, staring at each other. Not realizing that walkie-talkies were in frequent use in San Pedro, and that there was human habitation nearby even though there were no buildings in sight around the landing strip, we were all wondering how he could be so sure about our eminent rescue. But, presently there appeared a weathered Land Rover which was to be our transport to Paradise (meaning, the Paradise House Hotel). We abandoned the French speaking couple, still looking puzzled, at the landing strip.
A Paradise gained: (23 Feb 2000) I later learned that the driver of the Land Rover was named Oscar Aguilar and that he was one of the very few "taxi" drivers at the time and was the one whom the Paradise called when guests requested transportation around town or beyond on the winding jungle road that led on a little ways to the south of town. The first thing I noticed about Oscar, whom I called "Otter" (without being corrected - he was a very tactful guy) for a time because that was what I understood him to say when I first asked his name, was his bare feet stomping on the pedals of the Land Rover (locally known as a "jeep"). Little did I know that bare feet were then the custom in San Pedro, that shoe wearing was an idiosyncrasy reserved for gringos, and that I, myself, would always be shoeless there in the years to come. Oscar was not that great in maneuvering vehicles, but had a wonderful redeeming feature - his singing voice! To view a fairly recent picture of Oscar and read more about his singing, click Oscar Aguilar.
Bread, bones, and ice cream in Paradise: (27 Feb 2000) In 1977, wandering around Front and Middle Streets observing the ambience of San Pedro was a pleasure. The laid back, slow paced atmosphere, with no telephones ringing, was just what this gringo needed. There were very few stores open then; and, they were all small and built below living quarters above. The larger ones were Jenny's Store, across Front Street from Fido's, Martha's, on the side street across from Blake House (Barrier Reef) which was on Front Street opposite the park, and Julie's, on the west side of Middle Street nearer the south end of town - you may have noticed that those stores all had feminine names, this being from the custom of a store owner to name his store after a daughter or wife. Most of the facilities offering rooms for rent were small also, the largest of these being the Paradise on the north edge of town, the Ambergris Lodge just north of Fido's across a beach access alley, and the San Pedro Holiday, a little farther south of the park and near the high school. Of the smaller places, I remember that Milo Paz and also Felipe Paz had rooms for rent and some dining services. Martha's may have had rooms then, or soon after, and there may have been some others. The only bars I remember, other than those in the three larger hotels, were Big Daddy's on the beach in front of the park, and Marino's on middle street, but I may have been the only tourist to check out that last one. The bread part: (29 Feb 2000) Somewhere on the north end of Middle Street, we found a place where freshly made bread was being sold out of a stall in front of a casa - this was before Seferino Paz opened a large bread making operation in front of the Ambergris Lodge and on Front Street. The Middle Street bread, being very freshly made without any kind of preservatives, was very good, as was Seferino's later on. Susan and I would buy a loaf of bread on Middle Street and a tin of butter from Jenny's and take the bread, butter, and ourselves back to the Paradise for a one dish repast. Omar Khayyam should have known about pina coladas, instead of a jug of wine, and about coconut palms instead of date palms. If he had, he would have enjoyed his bread, book of verse, and "thou" even more. The bones part: (29 Feb 2000) In our wanderings along the beach and returning to the Paradise, we had to pass through the cemetery which was partly under the sea at high tide. On one such trip, we noticed a human bone lying in the sand. We left it there undisturbed and like to think that it was rescued by a caring San Pedrano. The ice cream part: (29 Feb 2000) The Ambergris Lodge, which was smaller then than it became while I was in San Pedro, had a small room opening on Front Street. In the room was a counter behind which a young man (whom I would come to know and like as being Sefi Paz, the son of Seferino) often stood and manned a Dairy Queen style ice cream machine. The ice cream was good and very refreshing in the heat of the day, so we often stopped by to put in our order. Sometimes, our request was met with a polite, but firm, "No hay." It was a response that I would hear frequently in the years to come.
The fish I caught and vice versa: (02 Feb 2000) During that first trip to San Pedro, Susan and I realized that the great fishing on Ambergris Caye was a powerful magnet in drawing people to the island. We did this in a natural way - we went fishing. Witness how proud I was of My First Fish, which you may click to view a photo of it, me, our first fishing guide, "Junior" Muņoz, and an interloper - plus read the story that goes with it.
A big daddy and a little monkey: (01 Mar 2000) On maybe our second, but probably our third night in San Pedro, Susan and I wound up at Big Daddy's. There was a big crowd, but very few tourists. Most of them -of course, there were fewer of them then- did not have the courage or curiosity to venture out of the bar of whichever one of the hotels -then fewer also- where they were staying. The crowd was having a raucous time and much live music (not sad songs or waltzes) was being played by various performers - part time musicians of course, but, as you'll hear more about later, there was no need for professional musicians in San Pedro. One gentleman impressed me a lot by being quite proficient at dancing while balancing a half full (the optimistic view) bottle of Belikin beer on his head. I have two overwhelming faults, the lesser of which is that, when drinking, I become overly friendly and loquacious, and the greater of which is that, when I drink, I am prone not to stop (and to be unlike Cleopatra, who was not prone to argue). Luckily, old age (with its attendant wisdom) has ameliorated those character defects somewhat. But, I was much younger then, and mangled (sic) with the people until Susan, out of agitation or exhaustion, abandoned the proceedings which went on until closing time (which is quite late in Big Daddy's) and long thereafter. Without knowing exactly what was happening, but sensing that there was yet more partying to be done, I joined a group headed somewhere and even helped carry one of the several cases of beer - none of which had I helped to pay for. As it turned out, we were headed for the casa of the beer balancer who, his name being essential to the sense of this telling this tale, is the only one of the group -some of whom are now among San Pedro's most admired citizens- whose name I will betray. The little monkey part: (02 Mar 2000) We went to the casa of John Eiley, sat around his large dining table, drank beer, listened to John's 1955 model record player playing (for my benefit, I take it) country and western music, and talked a lot about my favorite subjects - me and whomever I'm drinking with. I suspect that they learned a lot more about me than I did them, but I kind of caught up later. John was a gracious host and, about dawn, took me into his back yard to view his flora and one caged, black monkey of which he was very proud. What still amazes me is that nobody permanently abandoned the dining room table until long after the beer was gone and John's wife and kids had started to mill around the room doing, I presume, their regular morning chores. When the group did break up, I must confess, to my shame, that I didn't know the way back to the Paradise. So, I said to the last straggler, "Oh, kind sir, please show me the way to Paradise." That he did and I joined the not too welcoming arms of Susan. Later, I would come to know that John Eiley owned and piloted the Caribbean Queen, which was one of the two freight boats operating at the time, the other being the Emma V., the freight boat of Leoli Varela. I would do a lot of business with both over the years, but that's another story. Maybe you also have seen those boats - in movies filmed in Belize. (09 Apr 2000) A recent picture of John and his wife, Annie Eiley, to whom I would pay my account for deliveries by John, and a short biography of both, courtesy of ambergriscaye.com and the San Pedro Sun newspaper, may be viewed at Annie and John Eiley.
The harried and the Harrier: (15 Feb 2000) By the time of our second trip, I had grown more interested in eating fish than catching them, so we arranged with Junior Muņoz to have a short fishing trip combined with a "barbeque" on the beach and some snorkeling beforehand. While snorkeling, I spied a huge (actually, medium-sized) ray flapping his wings and (seemingly) stalking me. When I began to thrash the water and struggle towards the skiff, Junior peered out and calmly inquired, "Drowning?", and his calm settled me down enough to get back to the skiff without having to respond in the affirmative. The Harrier part: (16 Feb 2000) Then, on our way north to finish our agenda, I noticed a Harrier flying high above and in the same direction. I digress to tell you that a Harrier is a British fighter plane, one of which I had noticed hovering and doing other tricks at the International Airport in Belize City, where four of them were stationed - presumably to keep Guatemalans away. Well, this Harrier went on a few miles, then made a 180 degree turn and pointed its nose directly at our skiff. Junior mused, "I wonder if that's the Brit who I was drinking with last night. He said he was going to buzz me." It must have been - because the damned prankster passed directly over us and not as much as thirty feet above. I was upset at the time, but I came to learn that, in San Pedro, there is an adventure or a misadventure waiting nearly every day, and that you must accept this fact with equanimity. But, the "barbecue" (of barracuda) was good. I keep putting "barbeque" in quotes because, in San Pedro, barbeque (no more quotes) means seasoned and grilled, with or without an aluminum foil wrapping, over a fire of coconut husks; and, it also means food with a very good flavor picked up from the coconut husks.
Black coral, booze and battles in Paradise: (19 Mar 2000) During the second trip, Susan and I wandered into a gift shop which was located on the east side of Middle Street near the south end of town. There was nobody around except one youngster maybe ten to twelve years old. Susan spied a black coral tree, about eighteen inches tall and polished to a high sheen; it was truly a beautiful work of art but had no price tag on it. Although I liked it very much, I was trying to act nonchalant while Susan was gushing over it and, I figured, driving the price up. I asked the youngster the price of the tree and was told it would be necessary to ask "Papi". While the youngster went to find "Papi", I whispered to Susan that our budget for the trip was running a little low; but, if the tree was not priced at more than fifty dollars, I would buy it. Soon, a young man (anyone under thirty-five was young to me, even then) came in. I think I remember who he was; and, whether or not I'm right, we would later know each other well because that was true of me and every adult in San Pedro. However, I am afraid of being wrong and will not mention his name. When I asked him the price of the tree, he said, "fifty dollars". To this day I wonder how he knew or guessed my price limit, and/or where the microphone was planted. Anyway, the tree was ours and it survived the trip back to Houston, proud display there, shipment back to San Pedro, a ransacking of our rented house on the beach, and other travails too sad to mention, until the claws of the tropics finally gathered it in. The booze and battles part: 09 Apr 2000) Some night during our first trip to San Pedro, everyone but Jerry McDermott, the owner of the Paradise, his brother, Corey McDermott, and I had decided it was time to call it a night and abandon the Paradise Bar. The bartender had decided the same thing, but Jerry, in terms that I considered to be overly harsh, ordered him to keep serving the three of us until Jerry told him to stop. Well, Jerry had discovered a drinking companion (me) who hated not to be the last person to leave a bar and, I suspect, needed someone (me again) to be the interlocutor for the "discussions" he and Corey were having. After the bartender had finally been given permission to slink away and Jerry had long since given up on keeping any kind of tabs, the "discussions" he and Corey were having turned more into a vociferous wrangling about subjects which I can't remember, but know did not warrant the ardor which both were putting into the fray. So, purely in the interest of gaining knowledge about human psychology, I egged them on until talking turned into scuffling (without much danger involved because of the effects of the local rum) and then, turning into a peace maker, I got in the middle of the sparring. The three of us grappled each other into the center of the Paradise plaza, near the almond tree, where we could better disturb the guests (which, of course, included Susan) and other hotel inhabitants, which included Linda, Jerry's wife at the time. Finally, Jerry and I must have both realized that disturbing the peace of Susan and Linda posed an immediate and present danger to our own safety, because we quickly abandoned our pleasantries and slunk our respective ways into the near dawn. The consequences to me of my transgression were not so bad because of Susan's inherent good nature and determination to make the most of her vacation. Jerry did not fare so well. When I first saw him the next day, I noticed a large flesh wound about his head and did not ascribe that condition to the wild left hooks swung by Corey. From the pleasures of that night, I learned that San Pedro had my kind of gringos.