Grandma Key's Mother Plus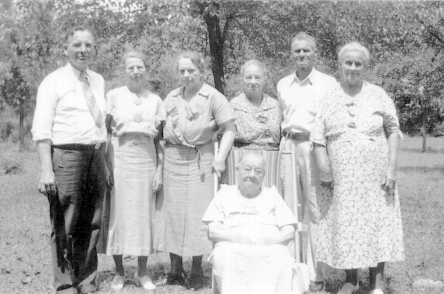 (02 Jul 2002) This photo was in my treasured collection before the claws of the tropics snatched it.
Eula Belle Key Canada, one of my many first cousins, has just come to my rescue by snail mailing me a copy of the original which she had also - many thanks, Eula Belle.
Eula Belle (I think she's dropped the Belle part) said that the original of this photo shows, on it's back, that it was processed in Anderson, Indiana which is where Cliff Marsh, the man on the left, lived at the time. She thought that the lady next to him was his wife.
However, I remember (or remember remembering) Grandma Key, nee Sarah Esther Marsh, who is standing directly behind the chair, telling me that the photo was of her mother, Emma Louisa Burks Marsh, who is sitting in the chair, and all six of her children.
My memory seems to jive with the genealogical information provided in the Marsh Descendants web page because the order of the six children who are standing seems correct. Here is an excerpt from Marsh Descendants.
Andrew Jackson Marsh and Emma Louisa Burks had the following children:


+ 23 i. Laurena Anne Marsh was born 10/23/1868.


+ 24 ii. Charles Edward Marsh was born 7/03/1871.


+ 25 iii. Sarah Esther Marsh was born 4/21/1873.


+ 26 iv. Rosalie Belle Marsh was born 11/01/1877.


+ 27 v. Maude Amelia Marsh was born 12/05/1883.


+ 28 vi. Andrew Clifton Marsh was born 1/30/1891.
Sarah Esther3Marsh was born in Osage County, MO 4/21/1873. Sarah died 2/03/1960 in Roosevelt, OK, at 86 years of age. She married David Mervin Key in Steelville, MO, 3/07/1894.
Sarah Esther Marsh and David Mervin Key had the following children:


+ 90 i. Emma Luella Key was born 3/02/1895.


92 iii. Jeremiah Andrew Key was born in Osage Co., MO 6/08/1896 and died 9/1974 in Enid, OK.


+ 93 iv. Clarice Belle Key was born 1/08/1898.


94 v. Birdie Evelyn Key was born 2/24/1900. Birdie died 10/17/1900 at less than one year of age.


+ 95 vi. Francis Samuel Key was born 1/06/1903.


96 vii. Thomas Edward Key was born in Francis, OK 9/16/1905.


+ 91 ii. David Clarence Key was born 9/16/1907.


97 viii. Earl Marsh Key was born in Little Rock, AR 1/15/1909.


98 ix. Esther Lucille Key was born in Salisaw, OK 10/03/1913.
My first cousins (or, more likely, first cousins once removed) and I (or, more likely, my progeny) could, and may if the creek don't rise, add to the genealogy on down from there. I think that my father, Thomas Edward Key, was born 9/16/1906 rather than 9/16/1905 - my birth certificate (8/13/1929) gives his age as twenty-two at that time.
I spent many a summer at Grandma's humble abode near Roosevelt, OK. She was a gentle, often smiling, lady who could do wonders on her brand new kerosene stove. When I think of pioneers, I think of her.
FLASH (16 Nov 2003): I was wrong - Kevin had guarded this photo and a lot more precious (to me) stuff while I was in the tropics. I just re-found another copy of this photos and learned that it was taken 28 Jul 1937 and pictures (in the back row - left to right) Clifton 46, Maud 53, Belle 60, Esther 64, Charlie 66, Rena 69, and (seated in front) "Grandma Marsh".