Kids I didn't deserve.
Last edited 05 Aug 2004; and, since 25 Oct 2000, this is visit
.
Opening remarks: (20 Jan 2000) I purloined the discoball image from Shannon's Cyber-home and used it as the relevant link from this page because, at the time, it was the only website birthed by any of my progeny. Now, in addition to visiting my number one daughter's site, you also can visit (if you promise to return) Cochise's Lame Home Page. He's Kevin, my number one son. Maybe Adam (son number two) and Jenny (daughter number two) will come aboard later. (08 Feb 2000): I nearly forgot to mention that Tim Vasquez, Shannon's soul-mate, has a fantastic personal web site, linked to on Shannon's home page, which is my excuse for the forgetfulness. You can visit by clicking Tim Vasquez.
A good deal for a lazy man: (03 Aug 2004) Adam finally got around to making his own web pages and he's already got his Owen David Klier Key photo album going at Adam and Becky. So, I'm through posting on this page unless Jennie gets some photos to me before SHE has her own web pages.
Cochise and his tribe: (10 Jan 2004)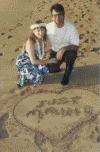 (03 Aug 2004) For more, visit Cochise's Lame Home Page.
Shanny, Timmus Magnus, and ?: (23 Jun 2002)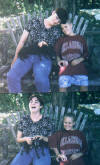 (03 Aug 2004) For more, visit Shannon's Cyber-home.
Adam Had 'em, Becky, Vida, Opie, and ?: (23 Jun 2002)






(03 Aug 2004) For more, visit Adam and Becky.
Jen-Pen and ?: (23 Jun 2002)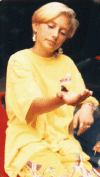 (03 Aug 2004) Anybody have more Jen-Pen scans to go here?
Two mothers, with or without permission (23 Jun 2002):

(03 Jul 2002) My photo gallery is in the Indian Page.
C'mon, Mervino's Gang, post some Grandkid shots.