A Short Biography of Carlos Betances-Ramirez
MK note (9 Nov 2001): This page is the handiwork of Bart Soto. Bart has made many valuable contributions to the Bunker and his words here (only slightly edited) are excerpted from several of his emails. At the bottom of the page, I have lit a flame in remembrance of Carlos, of his long and rewarding life, and of his short time in our Bunker. MK.
Merv, here is a photo of Carlos when he was serving was serving as a battalion commander in the 65th Infantry regiment. He was tall and slim, and he had red hair and freckles! Some people don't know we have white Puerto Ricans so I'm sure he confused many of the Continentals he met.
I will send you something for you to tell his story on a page to honor him. It shouldn't be too hard because: I already have a short military biography on him; we exchanged many letters and emails; and, I met and interviewed him personally during my research of the regiment.
I do miss Carlos a lot. He was an old soldier who just faded away ... thank goodness I had an opportunity to get to know him a little and be his friend. Bart.
Merv, here is a short biography I put together on my dear friend, Carlos Betances-Ramirez. As I complete the longer article I am writing on the 65th, you will get to know more about this fine man and good soldier.
Carlos Betances-Ramirez was born 8 Jul 1910 in Barrio Las Delicias, Cabo Rojo, Puerto Rico. His father died when Carlos was a young boy and he, one of seven children, was raised by his mother, his grandfather, and his uncles. His mother went to work as a seamstress to support the family. He proudly told me that they were "Jibaros" (poor Puerto Rican subsistence farmers) and he considered himself a Jibaro also. Carlos grew up to be tall, slim, and white with red hair and freckles.
He started his career in the U.S. Army in 1928 when he joined the Puerto Rico National Guard as a Private. The Puerto Rico National Guard eventually became the 296th Infantry Regiment ("Alerta Esta" - "Always Alert"). He served from 1928-1935, took a break, and then returned to the National Guard and served from 1938-1939. His total time in the National Guard was about 8 years in what was then called "inactive duty".
Carlos joined the Regular Army and entered active duty on 11 Nov 1942. He served as an enlisted man through 13 July 1943. The highest rank he obtained during the period of his enlisted service was Platoon Sergeant.
On 14 July 1943, he was commissioned a Second Lieutenant (Infantry) from Officer Candidate School at Fort Benning, Georgia. During WWII he served as a Platoon Leader in Company I, 3rd Battalion, 295th Infantry Regiment ("Todo Por La Patria" - "Everything for the Country"), mainly in the Panama Canal Zone. He reached the rank of Captain before the war ended in 1945.
It should be noted that, during this period time and on up to the time of the Korean War, the U. S. Army was racially segregated. The 295th, 296th, and 65th Infantry regiments were all formations consisting mostly of Puerto Rican enlisted men and Continental American officers.
Carlos was appointed a Regular Army Captain in 1946 and assigned as Company Commander, Training Company, 65th Infantry Regiment. Then, he served in various positions of command and staff in different units including the Infantry Officer Advanced Course at Fort Benning, Georgia, and the Command and General Staff College, Fort Leavenworth, Kansas.
In June of 1952, he arrived in Korea as a Lieutenant Colonel and volunteered to take command of the 2nd Battalion, 65th Infantry Regiment in July of 1952. The previous Battalion Commander had recently had his leg blown off. Taking a command of a unit while it is in combat is extremely difficult and hard. Carlos wrote about how he went for long periods of time without sleep or rest while commanding his soldiers and trying to prevent the Chinese from destroying his men and breaking through his lines. It was an extremely stressful time requiring intelligence and artful leadership of the approximately 850 men in his Battalion for whose lives he was responsible.
Two of his subordinate commanders were West Point graduates: George Jackson and Willis (Bud) Cronkhite. They considered him 100% soldier - tough, demanding, fair, a perfect leader, and the best Battalion Commander they ever served under. The three of them have kept in contact through the last 50 years. They are, truly, a "Band of Brothers".
At one point, Betances's Regimental Commander, Colonel Juan Cordero, wanted to visit the men on Outpost Kelly, the most forward position of the 2nd Battalion. So, while under enemy observation and small arms fire, LTC Betances and Colonel Cordero ran out to Outpost Kelly along a "safe lane" from the MLR (Main Line of Resistance) to the isolated outpost. There, they visited and talked with the men and their officers to raise their morale and cheer them up; then, they ran back to the MLR while they were again under enemy fire. It was a harrowing experience for Carlos and, for us, an example of his courage.
On another day, while Carlos and his Operations Officer, Major Gilberto Gonzalez-Julia, were observing Chinese who had just seized Outpost Kelly, they themselves came under intense enemy artillery fire. Taking cover in a trench saved their lives, although LTC Betances was wounded by shrapnel. Maj Gonzalez was so mad he ran, under fire, over to a nearby tank and had them place canon fire on Chinese soldiers who were serving on Outpost Kelly as artillery observers. The tank succeeded in scoring a direct hit which killed the enemy soldiers.
LTC Betances served as Battalion Commander from July to October of 1952. It is believed he was the first and only Puerto Rican officer to command an infantry battalion in the Korean War.
From Nov 1952 to Sep 1953, LTC Betances served as the Operations and Training Officer and the Military Advisor to General Min Ki Sik, who commanded the 21st Infantry Division, Army of the Republic of Korea. Carlos was instrumental in organizing and training four Republic of Korea infantry divisions.
After the war, LTC Betances served in various command and staff positions in the U. S. Army. Among the positions he held were: Staff and Faculty of the U.S. Army Caribbean School, Fort Gulick, Panama; Editor, Military Review, Spanish Edition, Fort Leavenworth, Kansas; and, Staff and Faculty, Command and General Staff College, Fort Leavenworth, Kansas.
Carlos retired in 1962. He never lost his love for the Army and his favorite regiment - the 65th Infantry Regiment "Borinqueneers". He had a large military library at home and loved to keep in touch with his friends with email and letters.
On 24 Oct 2001, while in the hospital, LTC Betances received the Bronze Star he had earned 49 years before. That was thanks to the untiring, relentless efforts of Willis (Tripper) Cronkhite, the son Willis (Bud) Cronkhite, one of the Company Commanders serving under Carlos in the 2nd Battalion of the 65th.
Carlos Betances-Ramirez passed away of liver and heart failure on 28 Oct 2001 at 7 PM.
Ironically, he died exactly forty-nine years after the battle of Jackson Heights (28 Oct 1952) in which he heroically participated. Bart.
MK add-on (14 Sep 2002): Bart Soto is writing a history of the 65th Inf Rgt in Korea and the Outpost Kelly part of it is now finished and is posted in the IBB as 65th Rgt on Kelly - Map and History. It's a sad tale, especially for the Bunker guys who had earlier doings with Kelly, but it's well worth a read. MK.
MK late add-on (02 Nov 2002): This add-on is really by Bart. Bart sent me a 1952 photo of Captain Willis "Bud" Cronkhite, Commander of F (Fox) Company, 65th Infantry (now a retired Colonel) and of Captain George Jackson, Commander of G (George) Company, 65th Infantry (now a retired Lieutenant Colonel). Here are those two photos:
Willis ("Bud") Cronkhite George Jackson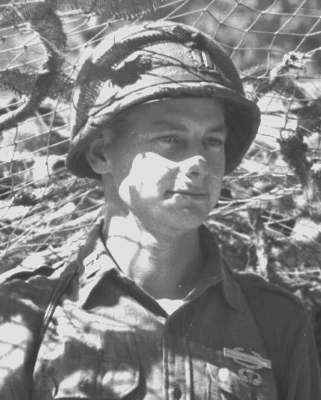 Bart has told us in his 65th Rgt On Kelly Map and History page that each of these men, when a Captain, served as a Commander Commander under the command of LTC Carlos Betances-Ramirez. On that page, Bart also details the part that all three men played in the doings on Kelly.
Bart has mentioned above the belated Bronze Star that was awarded to LTC Betances-Ramirez, and recently sent me this email:
"Merv, as I previously told you, the then Cpt Cronkhite long ago received a Silver Star for his actions during one of the battles for Jackson Heights. Now, the Army has finally agreed to my request to have George Jackson decorated for his heroism on Jackson Heights! He will receive his Silver Star in a ceremony this month, only 50 years late! I'm still trying to work out the details, but I am excited. Bart."
George Jackson is, of course, #47 in the Bunker but is too modest to tell us much of his story. If you click on the link I just gave you to his entry, you'll see what I mean. Heck, I found out only by accident how Jackson Heights got its name. Thanks, Bart, for telling us part of his story and for all your many contributions to our Bunker. MK.

3rd Division Page
IBB Map and Photo Index

IBB Page Six

"Can Do" Photo Index