The Early Years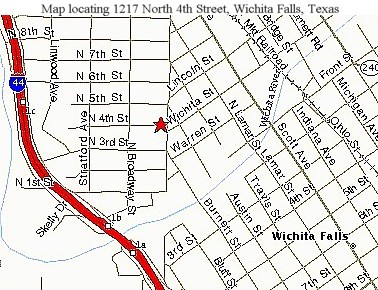 Now you can find the spot where I was born one very unfrosty morn - 13 August 1929.
My parents didn't need no stinkin' hospital.
Below are some of pictures taken of me (during my first four years) and a few of the stories that go with 'em.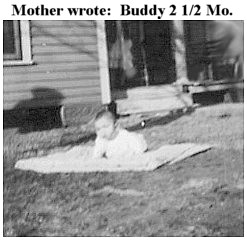 In these two photos, my Granddad
is hiding and holding me vertical!!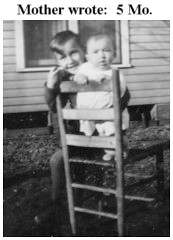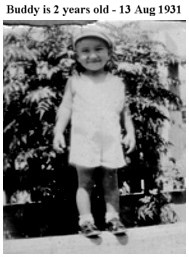 In Mother's photo album page that had the originals of the photo copied to the left and also had the originals of the five next copied below, Mother wrote: "Buddy's 2nd Birthday".
I can tell from these six photos that my second birthday party was held at the home of Granddad and Mama Smith. At that time, their home was in the 300 block of West 16th Street in Ada, Oklahoma.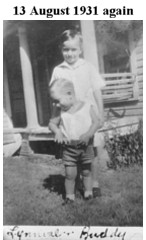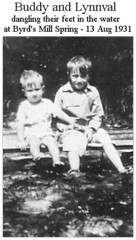 I either remember, or maybe it is just that I remember that I remembered, dangling my feet in the water at "Byrd's Mill" (as Mother wrote beneath this photo).
However, I never remembered where the heck Byrd's Mill was located or that it is properly referred to as "Byrd's Mill Spring" until I recently looked it up with Google.
Here is part of what I learned on the net about Byrd's Mill Spring:
Byrd's Mill Spring water first reached Ada in 1911.
Prior to that date, Wintersmith Lake and a well drilled where the city barn is now located (between Townsend and Stockton) helped supply water to the city.
Ada began looking for a better water supply when a new cement company (now Holcim) was proposed in 1906. The plant was completed in 1907 and Ada purchased Byrd's Mill Spring and the land around it in 1911 with water from the spring first reaching Ada on September 5, 1911.
The mention of the cement plant was particularly interesting to me because Granddad Smith worked at the cement plant for many, many years. Also, I passed the cement plant, located about a mile west of Ada, many times while walking back and forth between the grade school in Ada, which I attended for much of my first year inof school, and the Smith residence which was located about two or three miles west of town and in which my Mother, Daddy, and I were also living at the time.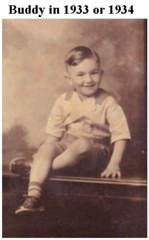 On the back of the original photo copied here to the left, Mother wrote, "Mrs. T. E. Key" and "301 E. Wharton" and "Buddy 4 yrs". Judging by that and by a map I found using MapQuest, I am certain that it was taken while I was four years old and that we were living at that time (if you call it living) in Fort Worth, Texas.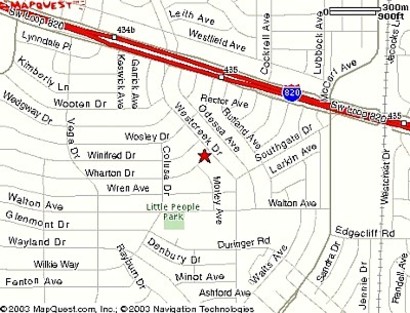 Here (left) is an edited copy of the map I found in MapQuest.
The only things that I remember about living in Fort Worth are the photos on this page and my Daddy driving a Coyote from underneath our house.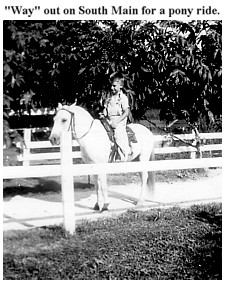 Nearby the original of the photo to the left, Mother wrote not only the where and when, but also the name of each kid in the photo. It was a great sixth birthday party - it wasn't very hard to draw a crowd, even during years of the Great Depression, if you only offered free cake and ice cream.
The photo on the right above probably was taken when we returned from California to Houston in late 1939 early 1940. The pony rides were located what we thought was way out on Main Street. Later it moved even further out Main Street and got some kid's rides to go along with the ponies. It was well loved by all the kids who had the chance to go there.
Later, the ponies went away, the rides became decrepit, and the operation finally closed completely. That hurt me very much much because I could not give my own kids, at the age I was in the photo, the thrills that my many pony rides gave me. Yep, it also hurt a lot when Playland Park, near the pony rides, also shut down.