John Greif and Tropic Air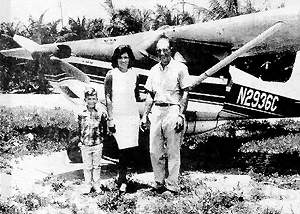 This 1969 photo is of an airplane and it's occupants taken just after it had made the very first landing of any aircraft in San Pedro. The occupants were John Greif, his wife, Celi (nee Nunez) Grief, and their son Johnny.
Later on, you may come across a photo of Celi taken 25-30 years later and her short biography, including a history of her San Pedro Holiday Hotel, on a page linked to in the second paragraph of BB - Page 12.
You can read the History of Tropic Air below (taken unedited from the Tropic Air pages on ambergriscaye.com) which includes a short biography of Johnny.
Although that history tells something about the founding of Tropic Air by John, it's not his "short biography"; and, I suspect that there couldn't be such a thing as a short biography of John, so I'm not going to try to author one. His many achievements and escapades would fill a web site much larger than that of Mervino's Hole in the Web.
History of Tropic Air
The history of Tropic Air is reminiscent of how those early American settlers traveled Westward in covered wagons to fulfill a dream and make a new life for themselves and their families. Their courage and vision typifies what was emulated by those who pioneered airline service in Belize. That is the story of Tropic.
When John Greif Sr. met and married Celi Nuņez from San Pedro, Ambergris Caye was a remote island accessible only by boat. In 1965, Celi and John purchased a beach front property and built the San Pedro holiday Hotel. John Sr. realized that tourists needed a quicker method of transportation to the island than sailboats. Having many years of flying experience, it was obvious to John that an airplane was needed, so he purchased a Cessna 180 and cut an airstrip out of the bush. The airstrip, much improved, is now the San Pedro airport. The small bush operation was grandiosity named Central American Transport, and existed for over a decade.
John "Johnny" Greif III, returning from Texas A & M University with a commercial pilot's license, was helped by Celi and John Sr. to purchase a Cessna 172 in November of 1979. Tropic Air Service Limited was born. The minuscule budget allowed for ticket sales and dispatching from the hot-dog stand located next to the airstrip. Flora Ancona, the owner of the hot dog stand/main office, is now the Chief Dispatcher for Tropic Air. Business and tourism increased steadily and more airplanes were added. In 1981, a terminal building was constructed at the Belize City Municipal Airport. In 1984, a new terminal building was added in San Pedro. The name of the growing airline was shortened to Tropic Air. A large hangar at San Pedro was built for the maintenance of the increasing fleet.
Tropic Air's jetprop fleet now includes the state of the art Cessna Caravan.
The first and only airline in Belize with an Air Operators Certificate and Certified Maintenance, Tropic now has over 120 employees, it has scheduled service throughout Belize, scheduled flights to Flores Guatemala and chartered service to other countries. Enjoy your journey and give us a "hail" when you arrive in Belize.